The Office of the President
Father Sicard and Father Cuddy share perspectives on a "wounded" church
---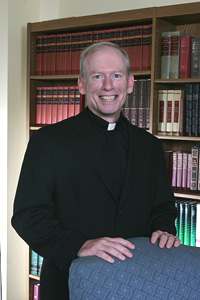 Before it was a place name, "providence" was a theological term denoting God's loving plan to bring each created being to its proper fulfillment. Thus the name Providence College does not merely reflect the location of the school, but rather its deepest mission: to provide an environment where each person created in the image and likeness of God comes to understand his or her identity and role in the plan of God.
My commitment to and passion for that mission stems from my own history at Providence College. I first came on the campus in the fall of 1976 wanting to go to law school in order to change the world through political activity. I left four years later heading to the Dominican novitiate instead. What happened in between was a deep transformation of my sense of who I was called to be through the providential ministrations of the Dominicans, the faculty, and my classmates. Through what I heard from the pulpit, learned in the classroom, and experienced on campus, God's providence set the course for my life's vocation.
I returned to this campus in 1988 for my first assignment as a priest to teach philosophy and minister to students. It was a chance for me to do for others what had previously been done for me: to preach the Word of God, to teach a love of truth that enlarges the soul, and to foster the loving friendship that encourages human beings to serve each other in the image of Christ. The web of relationships and experiences in those three years transformed me once again in the providence of God.
The latest surprising twist in providence's plan brings me back a third time to serve as president. I am excited to be in this role of service and leadership. From talking both to older alumni and current students, I know that this campus remains a place where lives are touched and changed by divine providence. I am pleased to welcome your interest in Providence College, where our mission is to transform lives through a liberal arts education in the Catholic and Dominican tradition.

Rev. Brian J. Shanley, O.P.
President